「China Supply Chain Executive Summit」 2021 Shanghai
"中国供应链高层峰会"2021年共聚上海
The China Supply Chain Executive Summit (CSCES2021) serves as an annual platform to exchange ideas and collaborate on the impact of market dynamics and new technologies for current and future supply chain & operations leaders. CSCES2021 organized by Conways Asia, will be held in Shanghai in 2021 and it is supported by influential and authoritative associations, media and governments. Now after yearly and successfully held, the CSCES series summits have already been the landmark for supply chain area in Asia. Dates below,
Nov. 25th-26th, 2021 | Shanghai, China
In the context of rapid economic globalization, market competition has become increasingly fierce. It is no longer a pure competition between enterprises. It is an ecosystem battle based on the supply chain. Supply chain management has been evolving continuously in changes since its inception. Establishing an efficient supply chain has become a problem that business operators have to face and consider.
The supply chain is a chain that can run through all links from production to manufacturing and sales. Each enterprise or individual is a section of this chain. The development of the supply chain has gone through the logistics management stage, the value-added stage, and the network chain stage. So far, Supply Chain has successfully broken through the traditional and advanced to the digital direction.
Based on the internationalization environment and the above situation, the new CSCES has formally started.
CSCES as the most influential Supply chain gala with a global perspective, in-depth discussion of the domestic and international supply chain trends and issues. More than 450 Supply Chain, Logistic, Planning, Purchase, Channel heads from different industries, such as High tech, FMCG, Electronics, E-commerce, Internet, artificial intelligence, big data, aerospace, etc. will gather for the superb opportunity for conversation, collaboration, and networking.
Thought-provoking topics
- The China 14th Five-Year Plan: How Creating a Closed-Loop Supply Chain
- Supply Chain Innovation: Properly Responding to Change
- Lead Supply Chain Down the Road to Digital Success
- The layout logic transform of global supply chains
- How Coronavirus Could Impact the Industry Chain & Supply Chain
- Preparing For Supply Chain Transformation: Getting Your Data And Technology Houses In Order
- S&OP + S&OE & IBP: the key to driving supply chain agility
- Supply Chain Collaboration – The New Way to Drive Value!
- Manufacturing Digitalization: RPA a Key Enabler of Industry 4.0
- Unlocking new abilities in procurement with the next generation of technologies
- Digital logistics empowers efficient supply chain
- remaining resilient and keeping up with fast-changing market conditions
- Thinking: Transformation and upgrading from traditional supply chain (corporate supply chain) to emerging supply chain (social supply chain) in the new era
- How to start the era of full-Supply Chain digital intelligence?
- Innovate to Transform: Last Mile Delivery Strategies for The Future
- Digitalization leads new cross-border e-commerce in the Post-COVID-19 Era
- Smart warehousing, increasing the response rate of the supply chain
- AI + 5G Are the Next Big Thing in Supply Chain
- Creating an effective reverse supply chain
- Achieving target service levels while optimizing inventory
- Fulfillment strategies in the age of direct-to-consumer demands
Previous Speakers Review
Dell – VP of Global Supply Chain Operations
COFCO – GM of Supply Chain
TCL - SVP
COFCO Womai - VP
Nestle – SVP – Supply Chain (Greater China Region)
Bright Food Group – DGM Of Strategic Planning
Nokia – Head of Nokia Manufacturing and Delivery Procurement & SNE Transformation Officer
Lining - CIO
Autoliv – VP of Global Purchasing & Supply Chain
Midea Group – Assistant President & GM of Meicloud
Continental – Executive Director Supply Chain Management
AstraZeneca – Global Supply Chain Director
Beijing Capital Agribusiness Group (CAG) - GM of Logistics
Nongfu Spring – GM of Supply Chain & Logistics
Inspur – GM of Supply Chain Manufacturing Products
China Vanke – DGM of Purchasing Management Dept.
Staples China – VP of Merchandising & Supply Chain
Wanhua Chemical - GM of Sourcing
Covestro – Global Supply Chain Director
Wangfujing Group - Group President Assistant and General Manager of Omni-Channel Center
Mobike – Head of Supply Chain & Purchasing Management
…………
Participating Enterprises, Government and Associations
Blue Moon, Luxshare, Alibaba, TCL, Vipshop, Guangzhou Pharmaceutical, Jumei Youpin, China General Nuclear Power, China Southern Power Grid, Snow Beer, BYD, Vitasoy, Gree, Skechers, Vanke, Mindray Medical, China Nanhai Petroleum, Ping An, Galanz Group, Zhengwei, Danone, Wrigley, Shell, Procter & Gamble, Foxconn, Xu Fuji, L'Oreal, Mulinsen, Pepsi Group, H&M, Haitian Seasoning Food, China Biopharmaceuticals, Master Kong Group, Tianyin Communications, Cisco, Cedar Holding Group, China Tobacco, Colgate-Palmolive, Kimberly-Clark, Mars, Starbucks, GAC, Skyworth, JD.com, Desai Group, Healthyuan Pharmaceutical, Xiaomi, Hewlett-Packard, Dongpeng Holdings, Liby, China Resources Pharmaceutical, Guangzhou Aluminum Group , Nestle, GE, Tianma Microelectronics, Sophia Home Furnishing, MINISO, Huike Shares, Estee Lauder, Zhongshun Jierou Paper, Opal Home Furnishing Group, By-Health, Estee Lauder, Mengniu, Sunsea Intelligent, Hitachi Elevator, Yinlong New Energy, Swatch Group, APPLE, Oufeiguang, Gree, FamilyMart, Xingfa Aluminum, Xuji Food, ZTE, Guangdong Youdao Automobile, Rainbow Shopping Mall, China Metallurgical Group, Huawei, Toyota, Kangmei Pharmaceutical , Renrenle Chain Commercial Group, Hisense Appliance Group, Tongrentang, Amazon, Shuanghui, Yihai Kerry, Chigo Holdings, Zhaochi, Fosun Pharma, Xinwangda Electronics, GAP, Jingwang Electronics, Wal-Mart, Johnson & Johnson, China Resources Guangdong Pharmaceutical , Suning, PetroChina, Hytera Communications, Midea, Zhengwei, Guangzhou Nanling Motors, Wen's Food Group, GlaxoSmithKline, Ping An Bank, Ericsson, Nine Dragons Paper, Vantage, China Resources Pharmaceutical, Zoomlion ...
————————————————————————
"中国供应链高层峰会2021"(CSCES2021)由Conways Asia 主办,将于2021年举办两场。为期两天的供应链高层峰会,届时也得到具有国际影响力及专业权威性的政府、协会、媒体等的联合支持。
2021年11月25-26日 | 中国 上海站
CSCES作为亚太地区最具影响力的供应链盛会,视野定位全球,对接国内外环境,注重实操话题的深入探讨, 是年度性的供应链交流平台,为现在和未来供应链的运营领导者们提供市场动态和新技术的影响交流的盛会。包括行业有:医药、医疗器械、汽车、金融、航天航空、快销品、食品、电子、人工智能、大数据等等。CSCES中将超过450多位受邀的参会嘉宾,他们均是来自全球各大企业中的决策人物。2021年7月深圳、11月上海,期待与您共襄盛举。
在经济快速全球化的大背景之下,市场的竞争愈发激烈,早已不是企业之间单纯的竞争,而是升级为基于供应链的生态系统之战。供应链管理自诞生之日起,便一直在变革中不断发展,建立高效的供应链,成了企业的经营者不得不面对和考虑的问题。
供应链就是一条可以贯通从生产到制造再到销售的各个环节的链条,每个企业或个人都是此链中的一节。供应链的发展,经过了物流管理阶段、价值增值阶段、网链阶段,至今已成功突破传统,进阶到数字化方向。
基于大环境和以上情况的思考,我们新一届的供应链峰会正式拉开帷幕。
热点话题涵盖:
*十四五规划 - 如何打造产业链供应链闭环?
*供应链创新 : 如何快速应对变化
*供应链数字化转型的"智慧"之路
*全球供应链分布逻辑的转变
*冠疫情对产业链、供应链的影响
*供应链转型的准备:让数据和技术中心变的井然有序
*S&OP + S&OE & IBP, 敏捷性供应链的关键点
*供应链协作–推动价值的新途径!
*RPA助推制造业释放潜能迈向工业4.0时代
*新一代技术,赋能采购,释放新能力
*新变革下的数字化物流赋能高效供应链
*适应瞬息万变市场的弹性供应链
*新时代下的传统供应链(企业供应链) 到 新兴供应链(社会供应链)的转型与升级
*如何开启全链路数智化时代?
*创新转型:未来最后一公里交付策略
*后疫情时代,数字化引领新跨境电商
*智慧仓储全方位助力上下游数据链无缝对接,提升供应链反应速率
*为适应未来的全渠道模式 重建供应链体系
*拥抱AI + 5G,助力供应链降本增效
*如何构建高效的逆向供应链?
*库存优化即服务
*协调客户主导的供应链
……
往届部分发言人回顾:
戴尔–全球供应链运营副总裁
中粮–供应链总经理
TCL–高级副总裁
我买网–副总裁
雀巢–大中华区供应链资深副总裁
诺基亚–诺基亚制造和交付采购负责人及首席SNE转型官
光明集团–产业发展部副总经理
李宁–首席信息官
奥托立夫–亚太区采购副总裁
美的集团–总裁助理兼深圳美云智数科技有限公司总经理
大陆集团-亚太供应链管理执行总监
首农集团-物流总经理
阿斯利康–全球供应链战略负责人
农夫山泉–供应链物流部总经理
浪潮–供应链制造产品部总经理
万科集团–采购管理部副总经理
史泰博–采购与供应链副总裁
万华化学–采购总经理
科思创–全球供应链总监
王府井集团–集团总裁助理兼全渠道中心总经理
摩拜–供应链采购管理负责人
……
参与企业及政府协会组织:
蓝月亮,立讯精密,阿里巴巴,TCL,唯品会,广药,聚美优品,中广核,南方电网, 雪花啤酒,比亚迪,维他奶,格力,斯凯奇,万科,迈瑞医疗,中国南海石油,平安,格兰仕集团,正威,达能,箭牌,壳牌,宝洁,富士康,徐福记,欧莱雅,木林森,百事集团,H&M,海天调味食品,中国生物制药,康师傅集团,天音通信,思科,雪松控股集团,中国烟草,高露洁-棕榄,金佰利,玛氏,星巴克,广汽,创维,京东商城,德赛集团,健康元药业,小米,惠普,东鹏控股,立白,华润医药,广铝集团,雀巢,GE, 天马微电子,索菲亚家居,名创优品,惠科股份,雅诗兰黛,中顺洁柔纸业,欧派家居集团,汤臣倍健,雅诗兰黛,蒙牛, 日海智能,日立电梯,银隆新能源,斯沃琪集团,APPLE,欧菲光,格力,全家,兴发铝业,徐记食品,中兴通讯,广东有道汽车,天虹商场,中国中冶集团,华为,丰田,康美药业,人人乐连锁商业集团,海信家电集团,同仁堂,亚马逊 ,双汇,益海嘉里,志高控股,兆驰股份,复星医药,欣旺达电子,GAP,景旺电子,沃尔玛,强生,华润广东医药,苏宁,中国石油,海能达通信,美的,正威,广州南菱汽车,温氏食品集团,葛兰素史克,平安银行,爱立信,玖龙纸业,华帝股份,华润医药,中联重科……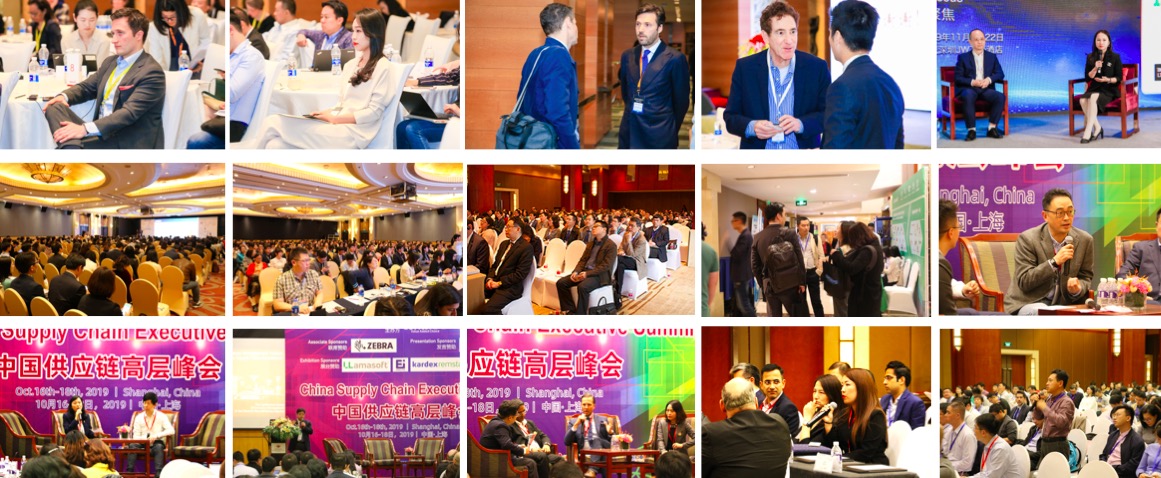 All above is a brief introduction, more information and agenda; please contact us.
Organizer | 主办方: Conways Asia