「China Supply Chain Executive Summit」 2022 Shanghai
"中国供应链高层峰会"2022年上海聚首
The China Supply Chain Executive Summit (CSCES2022) serves as an annual platform to exchange ideas and collaborate on the impact of market dynamics and new technologies for current and future supply chain & operations leaders. CSCES2022 organized by Conways Asia, will be held in Shanghai in 2022 and it is supported by influential and authoritative associations, media and governments. Now after yearly and successfully held, the CSCES series summits have already been the landmark for supply chain area in Asia. Dates below,
Sept. 1st-2nd, 2022 | Shanghai, China
_______
Sept.1st: Focus on " Industry-wide"
Sep.2nd-Session One: Focus on " Industry-wide"
Sep.2nd-Session Two: Focus on "Pharma. Industry"
(Two sessions held parallelly and separately on Sep. 2nd)
The Covid-19 epidemic has been repeated and is difficult to contain; global trade turns complex and volatile; geopolitical risks are rising, international logistics is blocked, and the lack of chips is still an outstanding issue...In the future, unpredictable events will become the new normal. How should enterprises prepare to deal with the impact of those waves on the supply chain?
As the most influential supply chain event in the Asia-Pacific region, CSCES adheres to the concept of "Global Vision, Focus on China", holds in-depth discussion of hot topics about supply chain, and is an annual platform for commucation in supply chain industry. With 5 Panels, 20+Keynotes, 50+ Speakers, and 500+ Professionals from well-known enterprises at home and abroad, you will learn about many practical cases, the latest developments in the industry, and the most cutting-edge technology tools. CSCES 2022 will bring you a fantastic journey for learning and communication. Shanghai, in September 2022, looking forward to the grand event with YOU.
Who attend: VP of Supply Chain, GM of Logistics Center, VP of Operations, CIO, Supply Chain Director, Head of Logistics China, VP of Purchasing, Head of Strategy Planning, IT & Supply Chain Management Director, S&OP Director, Planning Director, Logistics Director, IT Director, E-commerce Director, Retail Operation Director, Delivery Supply Chain Director, Direct Operations Director, Lean Management Director…
Top Topics:
Celebrate the 20th National Congress of the CPC and Build an Independent and Controllable Industrial Chain and Supply Chain

Improving Supply Chain Resilience Against Global Uncertainty

Don't put your eggs in one basket

Supply Chain Innovation - Work on it!

Digitalization Reshapes the Security Order of Commodity Circulation

The Trend of Supply Chain Platformization and Ecologicalization

End-to-end supply chain operations, from collaboration to excellence

Industrial Internet and Supply Chain Strategy

M2C - Shorten Delivery, Make Shorter Chains

Chance and Challenge of Industry 4.0

Smart Warehousing Helps Enterprises Reduce Costs and Increase Efficiency

The third-generation identification technology realize higher-quality of intelligent warehousing

Stock, the Scale - S&OP Helps to Support an Inventory Control Journey?

The Digital Economy Leads the Forefront of Procurement Digitalization

Mutual Benefit and Win-win Results, a Virtuous Circle of Procurement and Supply Relations

A New Round of Technological Revolution, How New Infrastructure Reshapes the Supply Chain?

Lighthouse Factory Leads the Future of Manufacturing

Facing Users Directly, C2M digitalization - the Future of Automobile Enterprises

Flexible production helps large-scale customization of reverse supply chain

Smart Logistics Black Technology and Future Development Opportunities in the 5G Era

Digital Intelligence Drives New Growth, Future Trends and Challenges of Intelligent Manufacturing

Future smart manufacturing and supply chain from the Metaverse

Exploration and Practice of Sustainable Development of Low Carbon Supply Chain

How to Better Cooperate with Third-Party to Enhance the Value of Both

Cross-Border E-Commerce's Magic Weapon of Supply Chain to Conquer the World

Reshaping Supply Chain Investment and Benefits under Omni-Channel

Under the New Development Pattern, the Supply Chain Leading to the County

In the Era of Normalized Epidemic Prevention, Chances and Challenges for the Reshaping of China's Pharmaceutical Supply Chain

Application of UDI in the refined management of medical consumables

Smart Warehousing Enables Safer Global Transportation of Medicines

Layout and Construction of a New Digital Ecosystem for Cold Chain Drug Transportation

How to Build a More Efficient and Safer Pharmaceutical Supply Chain

The invisible guardian: how the cold chain of medicine shows its talent in fighting the epidemic

Current situation and trend of medical logistics information construction

More…
Previous Speakers:
Huawei

– Chief Scientist

ZTE

– Global Supply Chain VP

Naura

- Chief Expert of Supply Chain

Henkel

- Head of Supply Chain of Great China

Dell

– VP of Global Supply Chain Operations

COFCO

– GM of Supply Chain

TCL

- SVP

COFCO womai

- VP

Nestle

– SVP – Supply Chain (Greater China Region)

P&G

– SVP of Procurement

Bright Food Group

– DGM Of Strategic Planning

Amway

– VP of Supply Chain

SANY

– Head of Process Digitalization Department

Nokia

– Head of Nokia Manufacturing and Delivery Procurement & SNE Transformation Officer

Lining

– CIO

Urban Revivo

– VP of Product & Supply Chain

Autoliv

– VP of Global Purchasing & Supply Chain

Midea Group

– Assistant President & GM of Meicloud

Continental

– Executive Director Supply Chain Management

Volvo

- Assistant to President

Western Digital

- VP of Procurement

AstraZeneca

– Global Supply Chain Director

Beijing Capital Agribusiness Group (CAG)

- GM of Logistics

Nongfu Spring

– GM of Supply Chain & Logistics

Inspur

– GM of Supply Chain Manufacturing Products

Goodyear

- Director of Planning APAC

Evonik

- Head of Purchasing APAC

CRV Pharma

– Deputy GM

Atour

– VP of Supply Chain & Operation

China Vanke

– DGM of Purchasing Management Dept.

Staples China

– VP of Merchandising & Supply Chain

Wanhua Chemical

- GM of Sourcing

Covestro

– Global Supply Chain Director

Wangfujing Group

- Group President Assistant and General Manager of Omni-Channel Center

Mobike

– Head of Supply Chain & Purchasing Management

More...
Participating Enterprises & Governmental Associations
Haier, Johnson&Johnson, Bayer, Phoenix Contact, Western Digital, P&G, Saint-Gobain, Nestle, LVMH Fashion Group, MSD, Panasonic, Michael Kors/Versace, Mary Kay, Yip's Chemical - Bauhinia Coatings, Fosun Pharma, Liby, Lenovo, Volvo, DSM, Medtronic, Walt Disney, Jollibee, Hengrui Pharmaceuticals, ZF, Semir, Eddingpharm, L'Oreal , Leica, Botanee, Tasly, Bosch, Lawson, Evonik, Nike, Junlebao Dairy, Naura, Shell, Dyson, MicroPort, Coca-Cola, Jomoo, Huiyuan Juice Group, Roche, Otis, Nongfu Spring, Philips Lighting, LUOLAI Textiles, Innovent Bio, Hello Inc, Hefei Midea Refrigerator, A.O. Smith, Organon, Fuchs Petrolub AG, Treasury Wine, UCB, Mengniu Dairy, MiSUMi, Moët Hennessy Diageo, Roche Diagnostics, Cargill, Festo, Oriflame Cosmetics, Luoxin Pharmaceutical, Wanhua Chemical, Vinda, Rongchang Pharmaceutical, XGIMI, GlaxoSmithKline, Laiyifen, Alcon, NXP, Peacebird, Amway, Sanofi, Shanghai Jahwa, Boehringer Ingelheim, Sherwin-Williams, Firmenich, Schaeffler, Signify, Converse, Bestseller, SKF Group, Starbucks, Lego, Chery Jaguar Land Rover, Colgate-Palmolive-Three Smiles, Novartis, Kimberly-Clark, Goodyear, Yili Group, Luye Pharma Group, Gold Hongye Paper, Newell Brands, HP, Standard Foods, Hasbro, Henkel, JDB, France Telecom, WuXi Biologics, United Imaging , ALDI, Merck, Decathlon, Bristol-Myers Squibb, Mondelez, BOE, Yihai Kerry Arowana Grain & Oil, Henlius, Xiaomi, POP Mart, Sandoz, Parker Hannifin, COSTA China, Junshi Bio, McDonald's, Boston Scientific, Ecolab, Suntory, MGI, Sephora, Delixi Electric, Yuyuan Inc. …
————————————————————————
"中国供应链高层峰会2022"(CSCES2022)由Conways Asia 主办,将于2022年举办两场。为期两天的供应链高层峰会,届时也得到具有国际影响力及专业权威性的政府、协会、媒体等的联合支持。
2022年9月1-2日 | 中国 上海站
9月1日:聚焦全行业
9月2日-分会场1:聚焦全行业
9月2日-分会场2:医药专场
新冠疫情反复难控、全球贸易复杂多变、地缘政治风险上升、国际物流受阻、缺芯问题依旧突出……未来,不可预测事件将成为新常态,企业应当如何准备,应对层层巨浪冲击供应链?
CSCES作为亚太地区最具影响力的供应链盛会,秉承"全球视野·中国聚焦"的理念,深入探讨行业热点话题,是年度性的供应链交流平台。5个圆桌论坛,20+主题发言、50+演讲嘉宾,以及来自国内外知名企业的500+供应链专业人士和决策者共赴盛会,您将获悉丰富精彩的案例、行业最新发展动态、最前沿的科技工具,CSCES 2022将为您带来一次绝佳体验的学习交流之旅。2022年9月上海,期待与您共襄盛举。
参会嘉宾级别:供应链副总裁、物流中心总经理、运营副总裁、首席信息官、供应链总监、中国区物流负责人、采购副总裁、集团战略计划负责人、信息部兼供应链管理部总监、S&OP总监、计划部部长、物流部长、供应链中心总监、IT总监、电商总监、零售运营负责人、大中华区直营门店&电商运营资深总监、交付供应链总监、精益总监、制造总监等。
热点话题涵盖:
喜迎党的二十大,打造自主可控的产业链供应链

提升供应链韧性,应对全球不确定性

智能仓储助力企业降本增效

数字化重塑商品流通安全秩序

供应链创新,路在脚下

低碳供应链可持续发展探索与实践

重塑全渠道下的供应链投入与收益

数字经济引领采购数字化最前沿变革

供应链平台化、生态化趋势

互利共赢,采供关系良性循环

新一轮科技革命,新基建如何重塑供应链

灯塔工厂引领未来制造业

数智驱动新增长,智能制造未来趋势与挑战

构建供应链控制塔,助力制造业迈向数据智能

端到端供应链运营,从协同走向卓越

5G

时代的智慧物流黑科技及未来发展机遇

库存即标杆,

S&OP

助力库存控制之旅

直面用户,

C2M

数字化

——

车企未来

新发展格局下,通往县域的供应链

如何更好合作第三方,提升双方企业价值

跨境电商征战全球的供应链法宝

工业互联网与供应链战略

防疫常态化时代,中国医药供应链重塑的机遇和挑战

医疗器械供应链发展趋势

UDI

在医用耗材精细化管理中的应用

医疗器械电商化趋势明显

加强供应链扁平化、柔性化应急管理

布局构建冷链药品运输数字化新生态

如何实现完美可靠的医药冷链预警系统

如何构建更高效、更安全的医药供应链

……
往届部分发言人回顾:
华为

–

首席运筹官

中兴通讯

–

全球供应链副总裁

北方华创

-

首席供应链专家

汉高

-

大中华区供应链负责人

戴尔

–

全球供应链运营副总裁

中粮

–

供应链总经理

TCL –

高级副总裁

我买网

–

副总裁

雀巢

–

大中华区供应链资深副总裁

宝洁

–

采购高级副总裁

诺基亚

–

诺基亚制造和交付采购负责人及首席

SNE

转型官

光明集团

–

产业发展部副总经理

安利

–

供应链副总裁

三一重工

–

流程数字化部本部长

李宁

–

首席信息官

UR –

产品与供应链副总裁

奥托立夫

–

亚太区采购副总裁

美的集团

–

总裁助理兼深圳美云智数科技有限公司总经理

大陆集团

-

亚太供应链管理执行总监

首农集团

-

物流总经理

华润医药

–

副总经理

沃尔沃汽车

-

总裁助理

西部数据

-

采购副总裁

朝日啤酒

-

亚洲供应链总监

固特异

-

亚太区计划总监

赢创

-

亚太区采购负责人

亚朵集团

–

供应链运营副总裁

阿斯利康

–

全球供应链战略负责人

农夫山泉

–

供应链物流部总经理

浪潮

–

供应链制造产品部总经理

万科集团

–

采购管理部副总经理

史泰博

–

采购与供应链副总裁

万华化学

-

采购总经理

科思创

–

全球供应链总监

王府井集团

-

集团总裁助理兼全渠道中心总经理

摩拜

–

供应链采购管理负责人

……
参与企业及政府协会组织:
海尔集团,强生,拜耳医药保健,菲尼克斯,西部数据,宝洁,圣戈班,雀巢,LVMH Fashion group,默沙东动物保健,松下,Michael Kors/Versace,玫琳凯,叶氏化工—紫荆花涂料,复星医药,立白,联想,沃尔沃,帝斯曼,美敦力,华特迪士尼,快乐蜂,恒瑞医药,采埃孚,森马,亿腾药业,欧莱雅,徕卡相机,贝泰妮,天士力,博世,罗森便利,赢创化工,耐克,君乐宝乳业,北方华创,壳牌,戴森,微创医疗,可口可乐,九牧厨卫,汇源集团,罗氏制药,奥的斯,农夫山泉,飞利浦照明,罗莱家纺,信达生物,哈啰出行,合肥美的电冰箱,艾欧史密斯,欧加隆,福斯润滑油,富邑葡萄酒,优时比,蒙牛乳业,米思米,酩悦轩尼诗帝亚吉欧,罗氏诊断产品,嘉吉,费斯托,欧瑞莲化妆品,罗欣药业,万华化学,维达纸业,荣昌制药,极米科技,葛兰素史克,来伊份,爱尔康,恩智浦,太平鸟,安利,赛诺菲,上海家化,勃林格殷格翰,宣伟涂料,芬美意香料,舍弗勒,光明牧业,昕诺飞,匡威,绫致时装,SKF Group,星巴克,乐高,奇瑞捷豹路虎汽车,高露洁棕榄-三笑,诺华制药,金佰利,固特异,伊利集团,绿叶制药集团,金红叶纸业,Newell Brands,惠普,佳格(多力),孩之宝,汉高,加多宝,法国电信,药明生物,联影医疗,奥乐齐,默沙东,迪卡侬,百时美施贵宝,亿滋食品,京东方,益海嘉里金龙鱼粮油,复宏汉霖,小米,泡泡玛特,山德士,派克汉尼汾,COSTA China,君实生物,麦当劳,波士顿科学,艺康化工,三得利,华大智造,丝芙兰,德力西电气,豫园股份……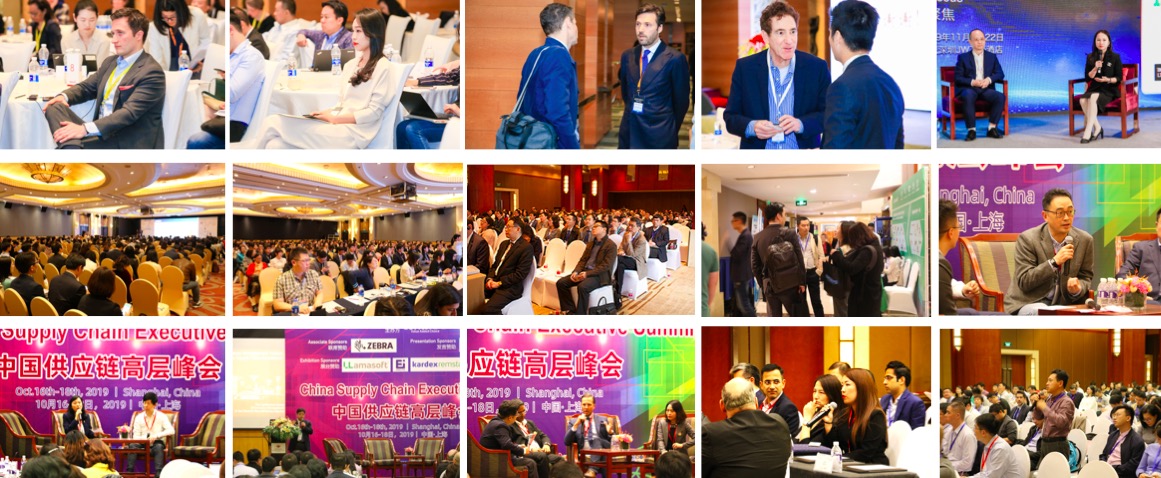 All above is a brief introduction, more information and agenda; please contact us.
Organizer | 主办方: Conways Asia